Business Lead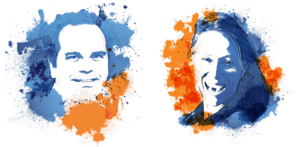 GPi is driven by Rhys Marc Photis, Kerstin van Eckert and a friendly team who are passionate about supporting people and companies in international environments. We equip you with the competency set needed to manage your manifold challenges – in a truly sustainable and effective way. We are aiming to work with individuals who are seriously interested in growing themselves, organisations that want meaningful development and leadership teams that need to be developed across borders. We are working closely together with various experts in the field of international leadership and innovative training methodologies.
Rhys MBA International (AMBA), Managing Director @ GPi LTD is an entrepreneur with a proven track record in setting up businesses in various markets around the world and 9 years as head of a client-driven L&D consultancy (read more)...
Rhys Marc Photis
I come from a multicultural background, have lived and worked in ten countries holding various managerial positions, travelled the world supporting businesses from global organisations through to SMEs and I lecture at various universities. Life is a journey.
I have worked in dynamic markets and had to adjust to culturally diverse settings, which allowed me to develop skills, abilities and attributes that are critical to success in international management. To me, business is all about people. So I am dedicated to maximising the potential of others using holistic solutions and innovative methodologies. I enjoy dealing with diversity and upcoming challenges.
I am passionate about people's place in business and preparing leaders for upcoming challenges. In 2007 I ventured into the world of blended training in response to one of our global clients. The project was a great success with positive feedback from managers and over 230% ROI.
That's why I see blended training solutions as the only sensible way to develop people within companies spread over various locations. It is about helping to implement global standards and competencies in a cost-effective and sustainable way. For us it is important that these modules are lively, engaging and effective.
I am happy to share my experience with like-minded people, to challenge the status-quo of management and leadership development, to prepare leaders for the future of work and co-create with passionate people interested in new ways of learning and collaborating.  
Kerstin MA, Managing Director – is a leadership communication expert, facilitator and mediator with vast experience in people & organisational development and 5 years as MD of a people and organisational development consultancy (read more)...
Kerstin van Eckert
I worked and lived in various countries around the globe. With over 10 years of leadership experience in international communication and change management roles, I understand the day-to-day challenges and complexities of an international business environment. This has helped me, during my 10 years of self-employed consultancy and training work, to stay focused and provide practical, individual solutions to my various MSE and corporate clients. A healthy mix of online and offline solutions seems the right approach to me, especially considering busy work schedules and the increasing demand for learning on the job.
I am passionate about making today's workplace more inclusive and flexible, thus helping it face a growing number of challenges and opportunities. I am solutions-orientated and my current focus is on supporting business growth by empowering agile leadership. In an international environment, this means supporting teams far beyond improving their intercultural skills. A systemic and holistic viewpoint and down-to-earth approach are the cornerstones of my work; an optimum combination of online and offline offerings makes this approach practical and sustainable. That's why I see agile leadership development as the only sensible way to prepare companies and their leaders for the rapid change ahead of them.
I am happy to share my experience with like-minded people who are interested in new ways of developing business through learning and collaborating.