Tools
As we know every situation is different. Depending on the number of people involved, the urgency and level of depth required we work in 3 ways:
We use standard tools available in the market (e.g. Insights, MBTI) – especially if you already have them in use.
We use the tools we have developed over the years; especially the Pathfinder series is an outstanding achievement.
We assist you or develop tools which you can then own and use as you feel fit.
GPi Pathfinder 
This tool is based on Prof. Clare W. Graves' Value Systems. Values are the constitutive elements of cultural groups. They define sense and meaning within a social group. These intrinsic values can be linked to specific management practices and behaviours.
Who is it for?
This value assessment is targeted at individuals, groups and entire organisations. It focusses on their development-based value systems. The analysis comes in 3 different applications:
Personal Value System: Personal Coaching, Recruitment, (Out)placement etc.
Group Value System: Team Development & Coaching, Mediation, Performance Dev. etc.
Organisation Value System: Corporate Culture Dev., Change Mgmt, OD etc.
Business and HR departments use the 9Levels to identify in what way individuals fit within certain departments, within the organisation(al culture) or not.
Professionals, teams and especially cross-departmental units can easily understand how to operate more effectively across business and departmental boundaries. This is essential when trying to get things done.
How does it work?
The Pathfinder questionnaire is an easy to use online tool which analyses the individual and his / her value set. In business settings it will mainly focus on the professional context.
Each level comes with a different understanding of what is important and how things should be managed.
The usual steps are:
Drag & Drop online questionnaire
Report and feedback session
Workshop (Findings & Development Actions)
What are the benefits?
The levels are easy to understand and provide a great way of illustrating similarities and differences. This tool leads to greater effectiveness by:
Being able to assess the As-Is and Should-Be situations
Providing detailed information about personal value sets
Offering a clear and practical framework which can be used to work effectively across cultural boundaries
Assisting successful integration and change processes
You need sustainable solutions, we help you finding and implementing them. Start off with a holistic and in-depth evaluation of your current business situation. From there create a practical, clear roadmap to unlock your business potential.
Depending on your specific challenges, you can choose from the following:
Pathfinder packages:
Business Starter (Corporate & SME version)
What you get

:

an in-depth status-check of the most relevant aspects of your business in order to identify development areas and performance barriers.
Typical applications: change and development scenarios etc.
Integration
What you get

:

Insight into two units or organisations before merging. Gain a clear picture of the future organisation, predict areas of conflicts, thus benefit from getting the best from two worlds.
Typical applications: Pre- and post-merger integrations, sale of a business etc.
Governance
What you get: Specific insight into 2-4 business units in order to identify aspects which need to be aligned or interfaces which need to be clarified.
Typical applications: Board governance, supply-chain, alignment of diverse company portfolio etc.
Agile Management Readiness
What you get: Insight into your organisation's ability to implement agile principles and network practices.
Typical applications: When introducing agile management practices acc. to Holocracy, Reinventing Organisations etc.
Digital Readiness
What you get: Understanding on how modern technology disrupts your industry and in what way your organisation needs to develop in order to keep up with the changes.
Typical applications: In-house digitalisation, external digitalisation etc.
Personality Profiling
What you get: Overview about an individuals broad and personal spectrum of purpose, mastery, autonomy and other factors to understand what motivates people and where do they perform best.
Typical applications: Recruitment, culture-fit etc.
For further information www.Pathfinder.Management
i-scope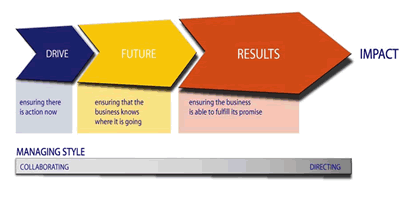 This tool is a well researched and proven questionnaire. It profiles individuals' and teams' entrepreneurial behaviours and their relevance to delivering the business strategy. In order to work effectively individuals, as well as teams need to have the right balance of the 12 i-scope behaviours.
Who is it for?
When teams are profiled, i-scope delivers objective and powerful information, by looking at the needs of the business mapped against the behavioural preferences of the team and the individuals in it.
i-scope adds value to leaders of organisations, project teams who have the remit to create change, HR Directors who are looking to assess the internal capabilities of an organisation and individual entrepreneurs.
Recruiters use i-scope as a means to differentiate themselves from their competitors by more closely matching the behavioural preferences against those needed to be successful in the new role.
What are the benefits?
This tool provides a detailed individual profile of entrepreneurial behaviours in the context of:
A business' culture and its values.
Interpersonal and inter-team interaction.
Can support change of business priorities / focus.
This tool is a very sound way to approach business professionals when initiating change.
Momentum CPI

There should not be a one-size-fits-all approach to deciding the most effective behaviours. To get the best performance, different jobs have different behaviour demands. And, unlike personality – behaviour can be identified, measured and most important of all – behaviours can be changed.
Who is it for?
Momentum CPI assists business leaders by analysing and comparing inter-team effectiveness – mapping inter-team behaviours and effectiveness. It assists professionals in measuring and mapping corporate goals or brand values. It is very useful for key players during mergers and acquisitions because it can support a sound approach of integrating teams and processes.
When teams are profiled, momentum CPI delivers objective and powerful information by looking at the needs of the business mapped against the behavioural preferences of the team and the individuals in it.
What are the benefits?
Momentum CPI is ideal for diagnosing opportunities for:
Improving staff performance – creating the recipe for business success.
Improving executive/managerial performance – shows what professionals are vs what they should be doing.
Selecting interims – profiles behaviours needed for a successful job holder.
Improving team effectiveness and performance – discovers the behavioural health of the team or group.
Trust in Teams
International Team Trust Indicator (ITTI)
Introduction
Research indicates that there are clear links between trust and overall team effectiveness, levels of innovation and creativity, and a team's readiness to adapt and accept change.
When working across different national boundaries the building blocks of trust are even less available. We tend to place higher initial trust with friends, family members or people who share our way of thinking and behaving. Foreigners don´t so easily fall into these categories.
Who is it for?
Based on these trust criteria, we use this process to identify levels of trust and the trust ´deficit´ within any given team or workgroup. Using the trust criteria outlined above, the ITTI can be used to assess levels of trust, and trust deficits:
between members of a team or work group.
between a team and the team leader.
between a team and the wider organisational environment in which it operates.
What are the benefits?
The ITTI provides some important benefits for all teams and work groups, but especially for those operating across boundaries of culture, language and distance. The ITTI assists in:
Identifying the differing levels of trust disposition among the team members.
Comparing the differing emphasis each team member gives to the carefully researched international trust criteria and by doing so highlighting the critical trust gaps between key relationships within the team.
Giving practical suggestions as to where the team needs to focus in order to build trust across the whole team.
Global View 360
Introduction
This tool is a powerful way for individuals to understand the impact they can make on people from different cultures. It is used as a basis for personal growth and development.
Who is it for?
Global View by WorldWork ® is most suitable for people with considerable international experience and a good network of international contacts who wish to build their skills at operating internationally by understanding more clearly how they are perceived by their contacts and colleagues from other countries.
What are the benefits?
Global View provides essential feedback from observers that have seen the user working and interacting with people from different countries.
It is a vital tool for professionals in an international environment and aids their personal development. It creates awareness by providing observers with the opportunity to rate the ´importance´ of certain attitudes / behaviours as they relate to a specific role or context, Furthermore, this tool provides a gap analysis in the feedback report, showing the gap between the level of ´importance´ attached to given behaviours, as compared with the perceived level of performance on the same behaviours.
International Profiler
Introduction
This is a questionnaire and feedback tool which has been developed to assist managers and professionals in raising awareness of potential areas in which they may require future development. It also suggests actions they can take to fill the competence gaps.
Who is it for?
The International Profiler was developed by WorldWork ® and is aimed at individuals who need to build adaptive skills for working in a multi-national environment.
This includes reviewing their present international experience and extending the skills they bring to the job (i.e. task).
Typical candidates include:
Professionals with international business careers.
Professionals operating in multi-cultural workplaces or diverse international teams.
International project managers or managers integrating operations across national boundaries.
What are the benefits?
The International Profiler enables professionals to understand more clearly the extra and enhanced qualities they require for personal success at an international level and enables them to identify and address their particular development needs for:
Working more effectively with colleagues in an international team.
Establishing and maintaining productive relationships with new partners in unfamiliar cultural contexts.
For the organisation, the International Profiler assists in:
Providing focused individual development plans and group training solutions.
Reducing the potential for failure in international assignments and cross-cultural transitions.
The feedback can be given in a face to face meeting, in groups, or over the telephone, and is used as a basis for personal development planning, and further coaching and developmental activities.
Cultural Diversity Analysis
Introduction
This tool identifies and measures an organisation's cultural diversity. The people who form an organisation all belong to different cultural groups and bring along multiple values and perspectives. Those differences have to be acknowledged and appreciated in order to succeed in pursuing a common organisational goal. The CDA provides detailed information regarding cultural homogeneity or diversity which in turn can be used to estimate employees' differing outlooks and behaviours at work.
Who is it for?
Small teams, cross-departmental units and larger organisations aiming to improve their work climate in order to enhance efficiency. It is effective within the scope of restructuring and integration processes for example, resulting from a merger or acquisition.
What are the benefits?
The CDA allows an organisation to effectively assess and capitalise on the diversity of their workforce. This leads to greater harmony within the organisation by:
Improving team effectiveness and performance,
Strengthening inter-departmental cooperation,
Securing successful restructuring and integration processes,
Enabling long-lasting business relations.
3CL
Introduction
3CL is a tool that identifies and measures an employee's level of cross-cultural competence. It serves as a basis for personnel assessment and helps to ensure successful group work in cross-cultural contexts.
Who is it for?
HR departments use the 3CL as part of their strategy to identify, monitor and develop their workforce's level of international competence.
Teams and cross-departmental units aiming to ensure and improve the necessary levels of competences needed to collaborate more effectively across cultural boundaries. This is vital within the scope of integration processes such as those resulting from a merger or acquisition.
What are the benefits?
3CL allows an organisation to effectively assess their employee's level of cross-cultural competence. This tool leads to greater effectiveness by:
Identifying an individual's level of cross-cultural effectiveness.
Providing detailed information about training needs.
Offering a clear and practical framework which can be integrated into career development plans.
Assisting successful restructuring and integration processes.