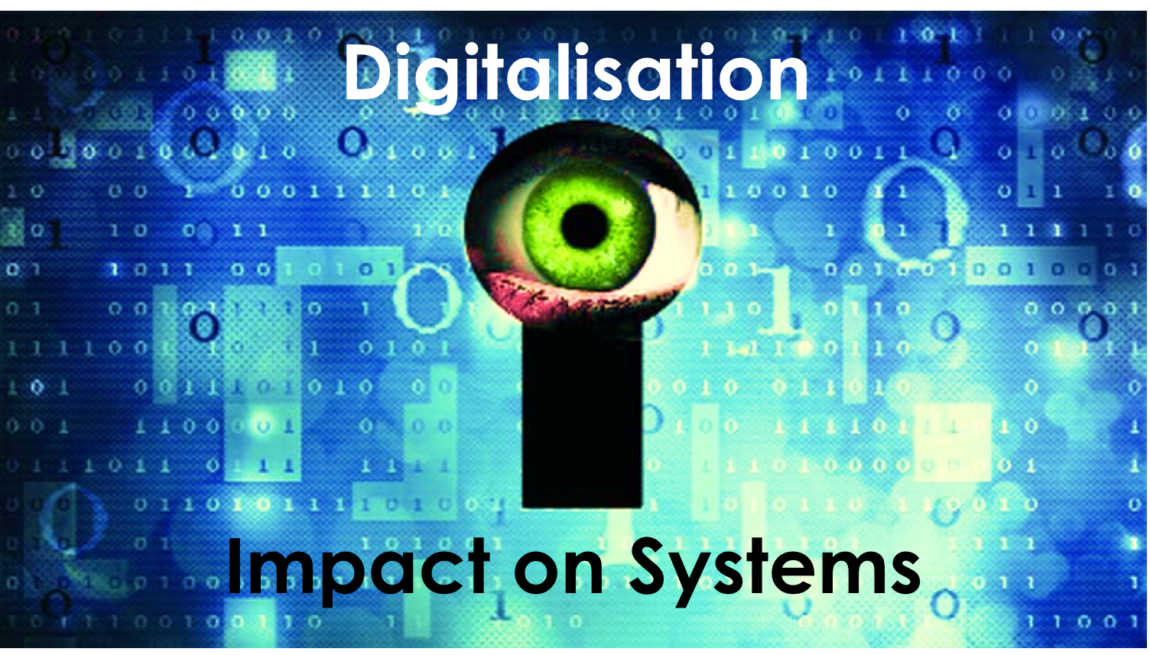 Digitalisation 2.3 – Impact on Organisational Systems
Intro
This article is part 3 of a series looking at how digitalisation affects an organisation as a whole.
The series explores how different areas of a business are impacted and interdependent. In the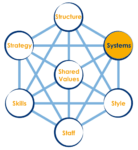 previous articles we looked at strategy and structure. We use the 7S model as a framework, a concept which considers all essential parts of a business. The model is based on the premise that, for an organisation to perform well, 7 elements need to be aligned and mutually reinforcing – this video demonstrates the interdependencies. The model can be used to identify what needs to be (re)aligned or how to maintain alignment (and performance) during times of change. It effectively illustrates the organisational impact when managing accelerated change like digitalisation.
Today, we look at systems. Effective systems ultimately benefit a company's speed and overall performance. However, if not aligned with the other 'S' like style and structure, speed and performance will be affected.
Digitalisation & Systems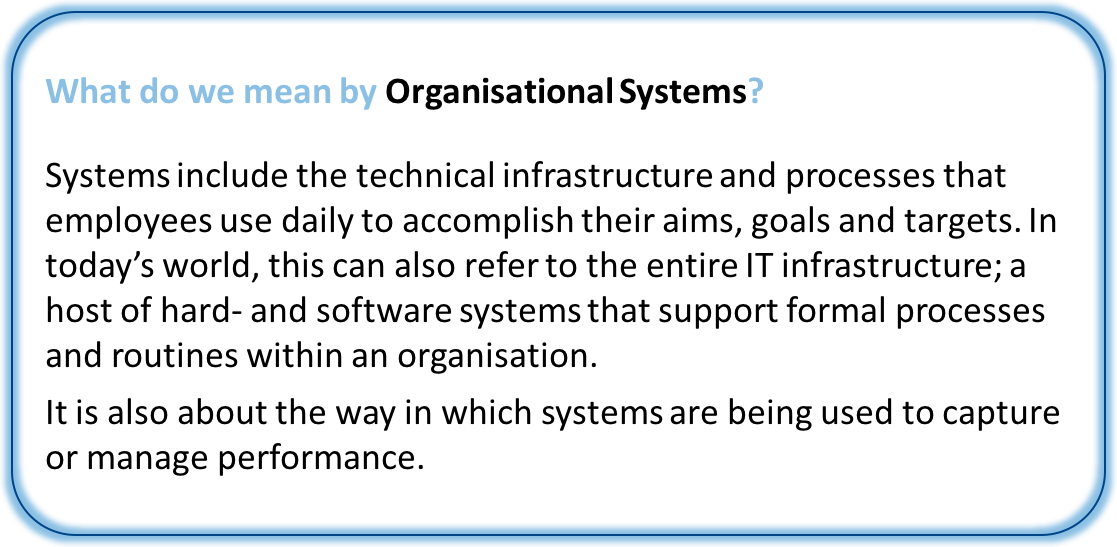 Why Bother?
We all know that digitalisation is going to accelerate and challenge us all, but it will also bring an endless range of possibilities. For example, according to a Siemens study, approx. 26 billion objects will be interconnected over the internet by 2020. The so called 'Internet of Things' (IoT) will provide huge amounts of data which companies will be able to turn into relevant information. Systems play a vital role here. However, we have so far only seen a reactive approach. Future market leaders will utilise digital systems even more (Fig.1) and make them more flexible, responsive and even pro-active.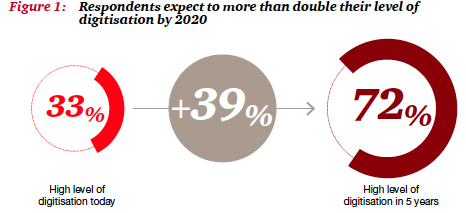 The Different Parts of Organisational Systems
Role of IT
Information technology can be used to support business in many ways. In larger organisations, it is very much about the role of the IT department. For far too long IT has been seen as a separate unit, a well-established department of its own. We all know IT supports all business functions but the traditional IT department is still formalised, technical and constantly negotiating with business lines what can or cannot be done.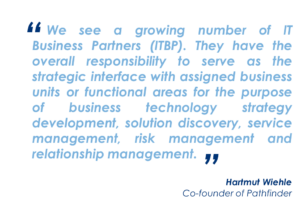 In larger companies, you often have a 'hard-core' tech team which provides infrastructure, security and access. However, as digitalisation becomes the norm, we need a growing number of IT people embedded within the organisation. We could also have super-users who develop digital skills to inform and provide insight to the core team.
These bridging roles are useful in the short term, but sooner or later, a higher level of integration or amalgamation is needed. This is also true for the bigger picture – systems need to be run in a more networked and integrated way in future. Looking back at our previous article on structure, the below visual nicely illustrates the increased interdependence between set-up and flow when preparing for a more dynamic future.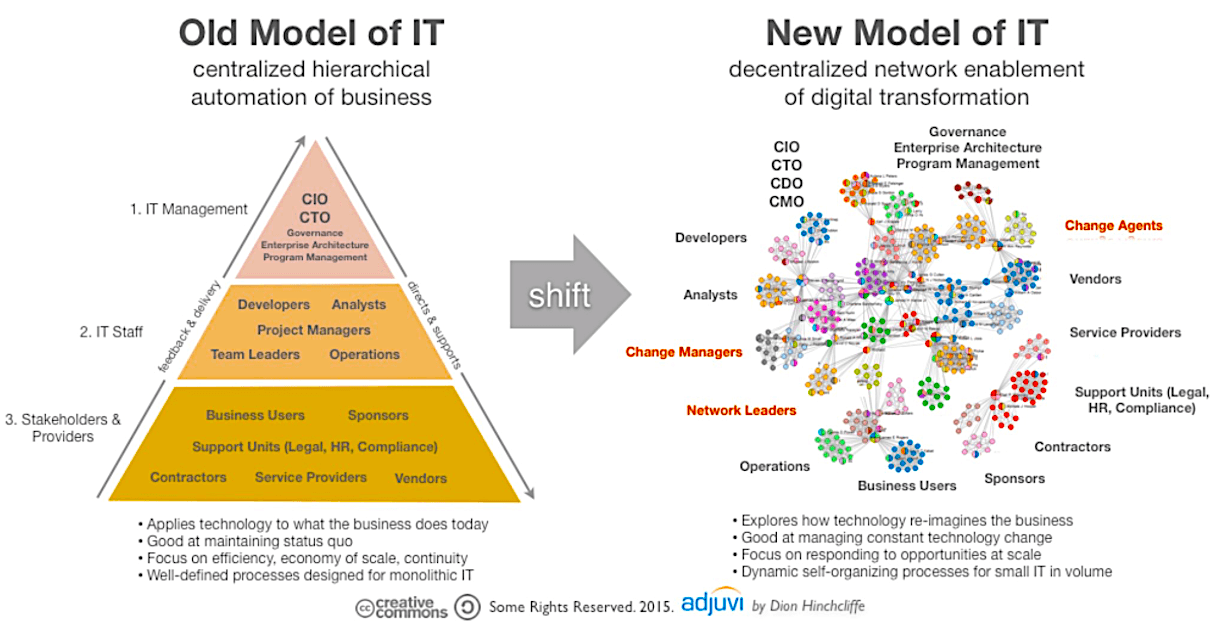 As pointed out previously, systems need to leverage more on the core value chains. IT needs to support this while remaining cost-effective. By providing multiple touchpoints and digital insight, IT will become more valuable and take on a much more strategic role. CIOs have an unprecedented opportunity to develop new revenue streams and even business models. They may become as crucial as CFOs in the not too distant future.
Measurability
Measurability mainly comes in the form of performance indicators or key performance indicators (KPIs) – providing rational insight and measuring progress. Various techniques can be used to assess the present state of the business and its key activities, and thus hone in on what is important.
The old model of IT shows it as a separate entity. Furthermore, measurables are managed within their respective functions across most organisations, with targets trickling downwards and information sent up. In many ways, KPIs mirror business units, reporting lines and procedures. Any discrepancies or mistakes are often addressed in isolation but no-one looks at the bigger picture to consider overarching improvements.
Data and information are on the increase and there will be many more touchpoints in future. As a consequence, and as outlined in another article on internal digitalisation, we should aim to make use of digital information to become faster, cheaper or better. Information comes in data streams, from user interactions, cross-functional company systems, applications and engagements with vendors. A LOT OF DATA is produced in structured formats from internal, company-organised sources.
As we embark into an era of IoT, automation, predictive software and AI will lead to an explosion in data volume, velocity, variety and veracity. No wonder then that data and analytics technologies are the no1 investment area (58% according to i-scoop's research). However, this is not going to be enough if you have not identified what is needed, if you do not prioritise what you measure and constantly improve. Consider the following steps:
1. Get a team of experts to show you how to best organise the architecture of data analytics;
2. Form cross-functional, in-house teams to build from the inside-out;
3. Force them to be pragmatic: start small, experiment, learn, get it right, repeat, build;
4. Embed these capabilities in your organisational functions and include all others;
5. Ensure ongoing feedback loops within, across, up, down and around.
In future, companies will need to measure a few KPIs aligned to their strategic objectives or those most likely to be effective. Like a balanced scorecard, KPIs are broken down into respective units and here comes the critical aspect: employees use insight to make informed decisions which, in turn, influence strategic steering.

Processes
What we consider here is how, when and by whom process steps are identified, defined, ascribed and modified.
Traditionally, process steps are set through a methodical and detailed approach in line with the organisational structure. Changes are usually initiated by specialist support functions and often take time because they need to be managed in more detail by re-wiring the process steps.
According to a McKinsey study, digitising information-intensive processes can cut costs by up to 90% and improve turnaround times by several orders of magnitude. Examples span multiple industries: a UK bank digitised its mortgage application and decision process, cutting the cost per new mortgage by 70 % and slashing time to preliminary approval from several days to just one minute. Organisations surveyed by PWC expect more than 18% higher productivity over the next five years. While today only one fifth of industrial companies have digitised their key processes along the value chain, in five years' time 85% of companies will have implemented Industry 4.0 solutions in all important business divisions.
According to i-scoop research, the number one digital transformation objective is to improve customer service (57%). This is great news as it means most companies understand that, in a world of growing complexities, everything we do should start with the customer. The top 3 priorities are:
1. enhancing customer service (57%);
2. process optimization (38%);
3. improved organisational agility (37%).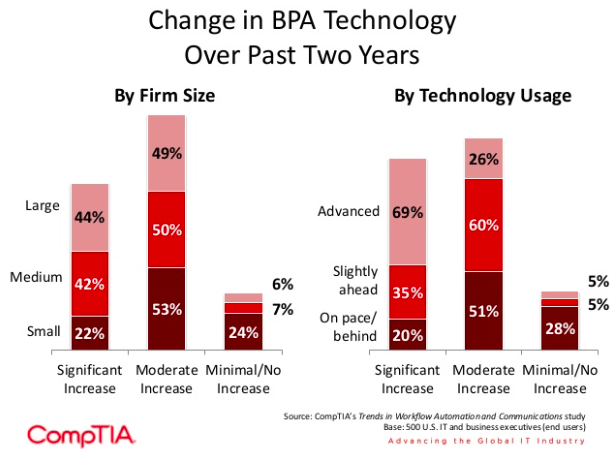 In future, processes need to be much more pragmatic and directly linked to the core value chains of the business. Employees need to be armed with measurables to make informed decisions about process changes. Employees will be enabled to create their own plug & play solutions. Currently, software solutions like Zapier can help people like you and me to:
• connect: link your web apps with a few clicks to share data;
• automate: share info between apps with workflows called Zaps;
• innovate: build processes faster and get more done—no code required.
This trend will continue to find its way into everyday applications and how to make more effective use of them. Programmers are no longer needed to code such solutions. This confirms the need for IT personnel to work much more closely with employees in the future.
Conclusion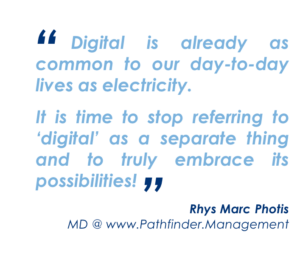 Systems today still replicate a series of largely discrete, siloed steps taken by various departments like marketing, product development, manufacturing, and distribution. Digitalisation brings down these limiting barriers but ultimately systems are merely an enabler. Without clarity about how your organisation really works, you will really struggle when digitalising. Every IT person who has ever been involved in a major migration will tell you how important it is to have absolute clarity. If companies haven't got their act together, digitalisation will only add to the chaos. This presents an opportunity but you need to be quick to get to the bottom of things and connect the dots.
IT needs to not only understand the crucial role it plays in the company's future success but that it also has a huge strategic duty. It can enable feedback to strategic initiatives in real time and assist in steering the entire organisation. However, this requires more adaptability and true engagement with the people around them.
Learn to get value out of data by building direct links to intelligent systems design. Use insight to improve decision-making, empower people to exploit new value streams and build new service offerings. Think big but start small, with 'proof of concept' pilot projects and an experimenting and learning attitude.
Every process should start with the client in mind. Process development and amendment need to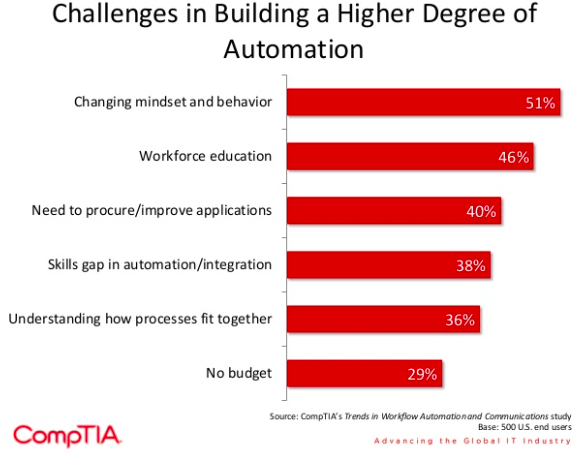 become modular – employees should be able to modify steps to work more efficiently.
Digitalisation involves and impacts the entire organisation. The chart on the right shows that even a technical topic such as automation comes with a lot of challenges, of which 4 out of the top 5 have to do with people. That is why the success of digitalisation is mainly a people challenge. Systems is just one piece of the puzzle and is, ultimately, as much about culture and how people do business as it is about specific skills.
A critical part of the journey will be the evolution of traditional systems towards a more connected, smart and highly integrated organisation. Finally, let's not forget that digitalisation is not an end in itself. You need to successfully master it on your home turf before your organisation can completely integrate in its ecosystem.
To see how we integrated the 7S into what clients call a "clever and game-changing approach" when assessing business units and teams, please try our Pathfinder Freemium version.
Additionally, watch this short clip to see how SYSTEMS fits into the bigger picture. If you are interested in finding about more, please feel free to contact Rhys.