Our Great Escape
We are looking for business partners, collaborators, farmers, landowners…
Are you interested in exploring business opportunities with us?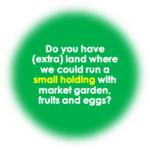 Are you someone with a few acres of extra land which you want us to look after and put to good use?
For example, a farmer with land or an orchard which can be used for organic farming and a small building which we could use as or convert into a living space. Alternatively, space for putting up an eco-lodge.
We would be looking to open up a farm shop, café with daily foods on the farm or in a village or town nearby.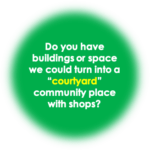 Are you someone with land and extra buildings which you want to make commercial use of?
For example, a landowner with buildings which could be used as commercial space (farm shop, café and / or workshops).
We are willing to turn existing buildings into a commercial space and to collaborate in some form or shape.
We love the type of farms where you have various local shops with a community feel. We would be happy to manage the space whilst running our own ventures in the available spaces; e.g. a butchers, bakery, flower shop.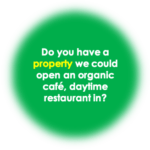 Are you someone who has a building and feels it is a great business opportunity if only someone entrepreneurial would take it on?
For example, a property owner of a building which could be used commercially (e.g. previous pub, cafe, restaurant or shop).
We are happy to turn an existing space into a loving and profitable business.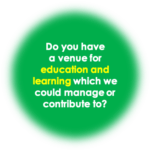 Are you someone who has already dipped his / her toes into some kind of training, learning and development and sees more potential?
For example, an owner of space and already a possible demand for some kind of training like personal development and creative art and craft courses.
We can manage the organisation of your existing business and grow the portfolio further with a mix of suitable courses and programmes.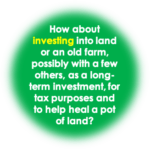 Are you interested in investing into land / or property?
For example, you and possibly a few others want to acquire old farm with land for whatever reasons.
We are happy to work something out together, consider everyone's interests and provide a solution which benefits all of us.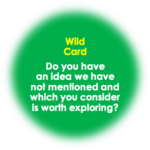 Anything on your mind we haven't thought of but which you think is worth exploring?
We are happy to get together to discuss what your ideas are, what opportunities you see and how we could possibly help make them come true.
Here a visual approach, outlining some of the key areas, we are happy to explore together…
Experienced, capable and conscientious couple are looking for their slice of rural heaven.
Can you help us? Could we help you?!
Who are we? 
We both hold UK citizenship. In our lives, we have lived, worked and adapted to cultures in various countries and communities. We have successfully run our own learning & development company for over 20 years. 
Over the past 5 years we have looked after smaller farms, engaged with farmers and have a good idea of what to expect. 
Also, we have various people you can speak to and who can vouch for us.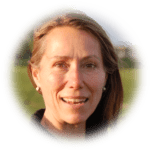 A little bit about Kerstin: 
A qualified mediator and facilitator, Kerstin believes passionately in permaculture farming and holistic management, growing her own veg and going for long walks in beautiful peaceful countryside (especially with her loving dog). 
More information on LinkedIn.
A little bit about Rhys: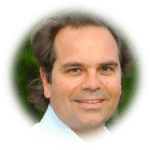 A published author [www.TheTurquoiseBrickRoad.com] on conscious living and human development and a trained coach. Rhys is an entrepreneur at heart, pragmatic, solution-oriented, a passionate chef, enjoys experimenting with foraged foods and connecting with people. 
More information on LinkedIn.
What is important to us?
Living
Living and working on the land.
Living more in harmony with natural life cycles (day/night, seasons).
Using own crops and fruit to experiment and create healthy, nutritious and tasty foods.
Regeneration
Increasing biodiversity and returning the environment to its natural heritage.
Listening to nature, learning and sharing (e.g. traditional local plants / practices).
Making creative use of nature and existing resources.
Community
Engaging with a diverse range of local people and including them as much as necessary and possible.
Leading and influencing by example.
Providing healthy and energetic foods.
Business
Establishing and running a purposeful and profitable enterprise.
Continuously learning, experimenting, trying & testing new business ideas / ventures.
Generating Learning & Development revenue streams out of topics above.
We would love to chat to you and discuss any opportunities.
Please feel free to contact Rhys @ 07765-407208 or Kerstin[at]GPiOnline.com