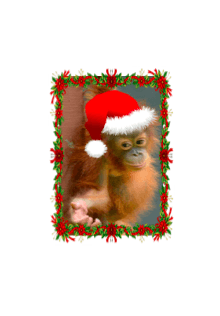 Season's Greetings & A Happy 2017
Did you know that we share 95% of our DNA with orangutans?
This is not the only reason why we love orangutans here at GPi. They are the largest tree-dwelling mammal. They build a new 'nest' to sleep in every night by bending and weaving branches into a bowl shape and filling it with foliage.
Due to our ignorance, they are an endangered species and we believe it's worth fighting for their survival.
So, we have adopted Peanut, an adorable, orphaned young orangutan cared for in the Sepilok Rehabilitation Centre in Malaysia.
Peanut's story
In late July 2013, a young male orangutan was found by a local farmer near the Kinabatangan river, which runs through the state of Sabah, east Malaysia. He was alone and in need of help. The baby was thought to be less than a year old. Like us at such a young age, orangutans are completely dependent on their mothers so, without her there to guide and care for him, he would not have been able to survive. The farmer took the young orangutan to Sepilok Rehabilitation Centre where he knew he would be cared for. On arrival at the Centre, he was given the nickname Peanut as he was very small.
It takes many years for an orphaned orangutan to be taught to live in the rainforest. During the rehabilitation process they must become proficient in all the skills they need to survive in the wild, including nest building, foraging and most importantly, climbing.
Peanut is a very loveable orangutan who has won the hearts of everyone at Sepilok with his sweet and innocent nature. He still has a very long way to go before he is ready to move on to the next stage of his rehabilitation so, for now, he must continue to practise on the climbing ropes to build up his strength and ability.
What has this got to do with Christmas?
We will continue to support the important conservation work around orangutans. For now, all of you are part of it as this year's budget for Christmas gifts went to Malaysia. We are sure you like the idea!
Visit https://www.orangutan-appeal.org.uk if you too want to support this important work.