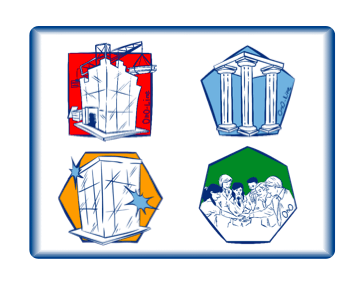 Which one is your Business Culture?
How Important Is Measuring Business Culture? 
Let me answer this question by first looking into 'Why Business Culture is Significant'.
Business environments and working culture vary enormously from company to company. We've all worked in an organisation that we enjoyed and others that we were looking for an exit strategy. Contrary to popular belief pay checks aren't usually the driving factor behind happiness and loyalty among employees. Look at successful companies like Apple, Google, Atlassian, W. L. Gore etc. They have figured out why employees want to stay and work for them. In 2015 Apple had an 81% retention rate among its staff. In fact, disengagement is the driving factor in corporate employees looking elsewhere for work – research studies put employee disengagement between 70-85% in many corporate environments.
Companies like Apple that are successful in retaining their staff model their business culture differently than many other organisations. 89% of employers think that their employees leave for more money elsewhere whereas the reality is that only 12% of employees move on for better remuneration. This statistic alone shows that many businesses are out of touch with that their people actually want from their jobs.
The emphasis on businesses to change their culture is more important now than ever especially when a simple search on Glassdoor can bring up everything you need to know about working at a specific company. Founded by three Expedia veterans in 2008, the Californian based jobs site is the fastest growing in the world according to Comscore. It has more than 11 million employee reviews for half a million companies, up from last year's figure of 340,000 companies and it gets 30 million unique visitors a month. Google invested $70 million in Glassdoor in 2015 which raised the company's valuation to the $1billion mark.
Increasingly, job seekers are checking out potential employers before they apply for jobs and more companies are realising they need to make an effort to avoid negative reviews and reach out to new employees by placing more emphasis on business culture.
What are we actually talking about? What is Culture?
We have all heard the statement 'culture eats strategy for breakfast' however, there is a lot of confusion when it comes to what culture really is and how to make it tangible to both current employees and outsiders applying for jobs. One of the challenges is that it is hardly ever defined and therefore managers, employees and colleagues often talk about different things.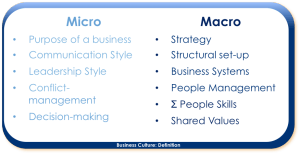 Culture can be looked at from 2 different angles. Let us call it micro and macro.
The micro-side is the soft-side of business culture that you can see in the table above. It is mainly the style of a company and how people deal with one another when it comes to making decisions and dealing with issues as they arise. The macro-side includes almost all other parts of an organisation such as recruitment and people development. The strategy of a company is inexplicably intertwined with business culture where that be a top-down, bottom up or shared set up. Rather than viewing culture and strategy as two separate entities for a business to be successful the two need to be linked together.
Making Culture Tangible
There are 4 culture levels that over 80% of businesses in the Western world operate. Many organisations are hybrids in different areas and others are transitioning from one level to the other because of internal or external forces requiring them to adapt and change. The 4 types of business culture should be rather obvious to most of us:
What Can You Do about it??
The more dynamic your industry, the more you need to react to on-going changes. The higher educated your workforce, the more likely you are to invest a substantial amount of your time into modelling an appealing business culture.
Start a conversation with employees and identify what they like about working in your company. Try to identify a list of motivational drives. What makes them want to stay or what would do more to convince them to stay if they received a job offer in the future?
Figure out where in the 4 cultural types you most likely fit in. This means once you know what cultural environment you have or want to have, the more likely you are to find employees that fit into the current or future business.
Managing this actively means having an open discussion, clarifying wants, needs and modelling the workplace in a way that makes people want to engage.
Isn't that the kind of place you would like to build and to work for?