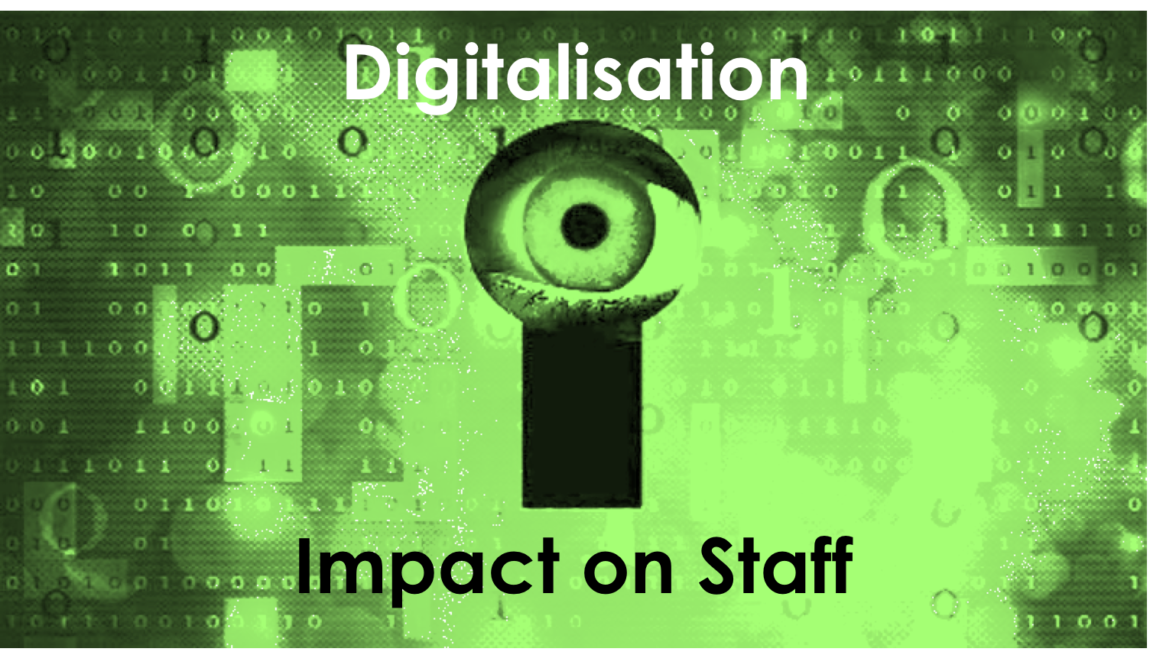 Digitalisation 2.5 – Impact on Staff (HR & People)
How Does Digitalisation Impact Staff?
Intro
We can all agree that most businesses are ultimately about people. However, from experience we know that there is often a disconnect between HR and business lines. Many HR leaders are rather risk-averse and hesitant when it comes to actively engaging with other parts of the business. Digital tech not only brings many opportunities for companies and HR, but redefines HR's place and purpose in the business. In this article we take a closer look at the need for redesigning HR by focusing on two aspects: hiring and people development.
This series
This article is part of a series looking at how digitalisation affects an organisation as a whole. At the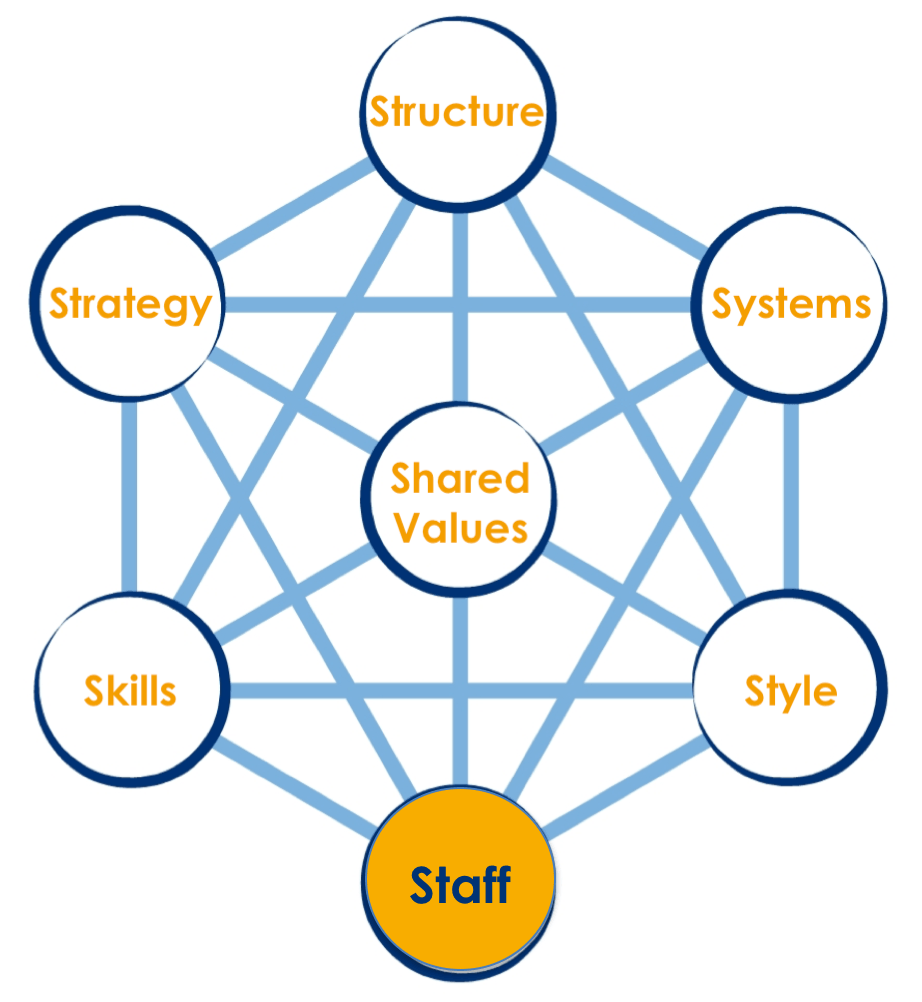 beginning we clarified the difference between internal and external digitalisation and why it is essential to get 'your house in order' first.
The series provides a practical framework and explores how all aspects of a business are impacted and interdependent. We use the 7S model as a basis, a concept which considers all essential parts of a business.
It is based on the premise that, for an organisation to perform well, 7 elements need to be aligned and mutually reinforcing – the business example in this video demonstrates the interdependencies. The model can be used to identify what needs to be (re)aligned or how to maintain alignment (and performance) during times of change. It effectively illustrates the organisational impact when managing accelerated change like digitalisation.
Previous articles cover:
Today, we look at the 5th 'S' – Staff. It is very much about HR, people but they don't start with a 'S'.
Digitalisation & Staff
Staff, in simple terms, refers to the number and type of employees and their individual capabilities.
It considers all HR and people development matters; from recruitment through development and all the way to the exiting of employees. Many outstanding companies have shown how essential it is for an organisation to have the right people in place and to actively manage human capital.
Similar to Style, i.e. a company's culture, Staff is also considered a 'soft' element. It is more difficult to define or identify, and management would usually influence it indirectly.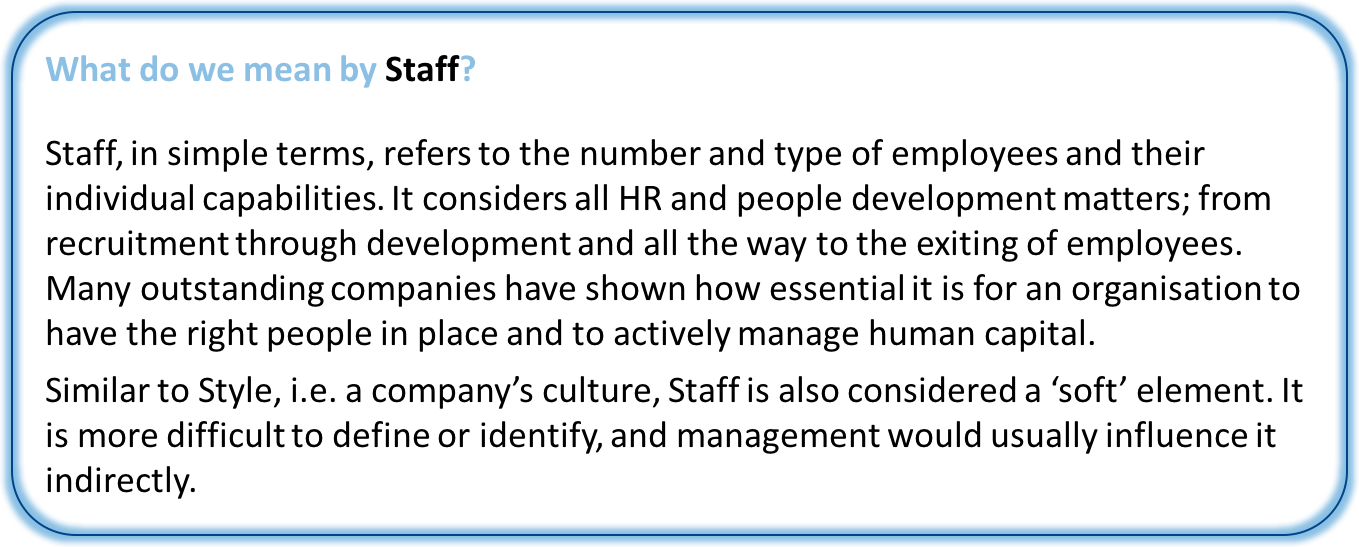 A change in demand
Everything is changing, and new economic paradigms and scenarios are cropping up. For example, new trends are emerging on the job market, such as on-demand work and smart working. These trends require different skills and abilities of companies, HR professionals and jobseekers wishing to survive in an increasingly competitive market.
Generational shift as an accelerator for a more digital future
According to the latest data from the U.S. Census Bureau,the millennial workforce (adults aged 18 to 34) has outnumbered the boomers since 2014, and this year eclipsed Gen X as the largest cohort in our modern workforce. This unique, growing generation and the influence they wield cannot be ignored. As they and Gen Z become the major players in today's working society, businesses of all sizes are finding it necessary to modify many aspects of their HR and recruitment practices to adapt and adjust. A recent article shared some interesting stats on Millennials and how they see the world of work:
64% seek more purpose and say it's a priority to make the world a better place;
The definition of "boss" has changed. In fact, 72% of Millennials would like to be their own boss. If they do have to work for a boss, 79% prefer that person to act more as a coach or mentor;
88% would choose a collaborative work culture rather than one based on competition;
As technology has allowed work and life to blend seamlessly, 88% of today's up-and-comers expect "work-life integration" to be a natural part of their employment experience.
Generational diversity is increasing as Millennials, with high expectations for personal growth, work side-by-side with baby boomers, many of whom are delaying their retirement. A new social contract is emerging, driven by demands for rapid career growth, flexible work arrangements and an increase in the number of contract and part-time work, and dramatically changing the employer-employee relationship. This workforce not only readily accepts digital tech but doesn't understand why it wouldn't be used if it makes life easier. The above percentages clearly point to the need to rethink people management in companies, from A for assessments to Z as in zero-email initiatives.
Company culture & authenticity
In a world where social media is creating transparency in real time, more companies are learning the hard way that it is not enough to get your brand or marketing department to write up what you are about. We can all perceive any mismatch between what people say and do. It is a survival mechanism and digital tech helps us see through the packaging.
Savvy candidates will evaluate company brands before applying for or accepting a job; much in the same way they evaluate consumer brands when shopping. They'll be researching you as much as you're researching them, so make your website a strong tool for engaging talent.
As a consequence, authenticity, or what many call transparency, has become tremendously important to the workforce. Employees are becoming less tolerant of companies run in secrecy and policies made behind closed doors. A people-oriented corporate culture has become as important as good wages. In fact in many instances, culture trumps compensation.
Here we can see how clearly STAFF is linked to SHARED VALUES. Your 'employment brand' is a key selling point and online platforms like Glassdoor, Kununu and others are becoming reference points for potential employees. Furthermore, a growing number of companies like UniCorn focus on the right culture fit. It is only a matter of time before companies like Google share their efforts to make this more of a science (Let's Make Work Better. Research, ideas, and practices from Google and others, to put people first.)
There are perfectly suitable matching tools out there that can do a better job than an experienced HR professional's gut feeling. It will be fascinating to watch what AI can achieve in this field.
Role of HR in the digital world
The 2 examples above illustrate why HR has to rethink its role in business. Just consider a few facts on HR's perception within organisations.
A study by IDC identified that HR underestimates the frustration of line managers with HR processes – more than 41% of managers surveyed see it as a major frustration. From the HR professional perspective, that proportion was just 32% (scary).
Responding to disruptive changes in digital technology, business models and workforce demographics, 92% of business and HR leaders have identified the critical need to redesign their organisation to meet global business demands (Deloitte). Yet, only 14% believe their company is ready to change.
1. HIRING
Hiring refers to the overall process of attracting, selecting and appointing suitable candidates for jobs (permanent or temporary). It is usually handled by managers, human resource generalists and/or recruitment specialists.
Many hiring processes reveal what working in the company will be like. Some HR departments are disconnected from the business and yet manage the hiring process, relying on official guidelines, structured interviews with various representatives and following long-winded formal procedures.
As tech develops, it allows for fresh ways of engaging and screening potential candidates. Google is known to approach people when they search a series of keywords.
In future, simulations and gaming could be used for screening candidates. Southwest Airlines (a company that receives more applicants per position than Harvard) uses something called 'scenario simulation' to separate the wheat from the chaff. These exercises use problem solving, creative thinking, and collaboration skills similar to what may later be required on the job and while in-flight.
Culture-fit
The balance of power continues to shift in favour of employees, causing business and HR leaders to focus on enhancing the employee experience to attract and retain top talent. 86% of respondents rate challenges with corporate culture as "important" or "very important". In addition, 85% rate challenges with employee engagement as "important" or "very important."
Millennials in particular want to feel part of the company culture; doing good work motivates them. They want to know about their workplace and are not afraid to ask.
As a result, tech will be used much more right, from the outset, to identify people with the right skills for the job and the right personality for the company and/or team. For example, Zappos hires for 50% talent and 50% ability to mesh with company culture. After the initial hurdles there are simpler guidelines, semi-structured interviews with a small number of functional representatives and maybe even a whiteboard session to see a candidate in action. Tech will speed up the entire process and it is much easier to arrange an initial Skype call than a physical visit.
2. PEOPLE DEVELOPMENT
In the context of institutions, personal development refers to the methods, programmes, tools, techniques and assessment systems that support human development at the individual level.
Corporate training offered in most businesses can be bafflingly theoretical and out-of-touch. There is a training catalogue, a logical framework and processes geared towards expertise and qualifications. The boss and the logical system ultimately decide which roles and functions receive what training and development.

Strategy & Skills
There is a historical problem with people admin being originally managed by the finance department; linked to payroll and people being labelled as resource. However, even when HR became responsible for people development, the problem remained.
Strategy and Staff are directly related, as pointed out in the 7S. Every strategic change should be translated into people skills because a strategy is executed through people's abilities.
More mobility is needed within the workforce and modern solutions will help match strategic implications to the relevant skills.
Changes in Skills requirements
Corporations have dumbed down jobs to such a level that it is easy for software solution providers to take the flowcharts, get to grips with the decision-making templates and replace them with tech. The same could be said of repetitive manual tasks and robots.
Overall, social skills—such as persuasion, emotional intelligence and teaching others—will be in higher demand across industries than narrow technical skills, such as programming or equipment operation and control. Cognitive abilities (e.g. creativity and mathematical reasoning) and process skills (active listening, critical thinking) will also increasingly form part of the core skills requirements for many industries. Read more in workplace traits in the next 10 years.
In future, HR managers will need to listen more to line managers to understand what new roles are required in a continuously changing organisation. This adds Chief Experience Officers and Chief Listening Officers to the list of new digitalisation-related job roles such as Social Media Manager, Community Manager, Online Reputation Manager, Gamification Designer, Augmented Reality Architect, Crypto-Currency Banker. They illustrate upcoming changes in the business world. HR has the opportunity to actively shape this dynamic future now.
Collaborative learning
The IDC study on behalf of CornerStone OnDemand reveals that 47% of respondents favour a collaborative learning system. However, the research shows that companies with higher growth rates have a higher percentage of collaborative practices. Most corporates presently have Learning Management Systems that are neither dynamic nor transparent or user-friendly.
Deloitte research from last year clearly indicates that companies are overhauling their organisational structure and shifting away from hierarchical, functional business models toward cross-functional "networks of teams," in an effort to become more agile, collaborative and customer-focused.
Despite the enormous interest in this shift, however, only 21% of business and HR executives feel expert at building cross-functional teams, and a mere 12% understand the way their people currently work together. These numbers are staggering and illustrate how silo-oriented most larger organisations are.
HR people would be well advised to encourage collaboration, which is shown to increase employees' awareness and willingness to change. The resulting motivation can be supported by learning complex systems thinking, understanding path dependency and self-organisation. This would remove uncertainty and avoid reversion to past behaviour. Participatory change management skills can spread not only among change leaders but also among all employees.
Leadership development
Deloitte's report reveals the traditional leadership pyramid is not producing leaders fast enough. 56% of respondents believe their company isn't ready to meet their leadership needs, and more than 1 in 5 (22%) report having no leadership programme for Millennials.
To address this issue, 89% of executives suggest strengthening, re-engineering and improving organisational leadership as an important priority in the year ahead.
Running faster on the traditional leadership development track
will not solve this perennial challenge.
Brett Walsh, Global Human Capital Leader, Deloitte UK
Leadership programmes of the future will need to be much more hands-on. The rationale will be for leaders to focus on specific topics that hold them back, their people and their organisation. They will develop solutions applicable to their business context and culture with the help of workshops, benchmarks and expert guidance. Changes will be carried out by engaging with different partners within the company.
OnO-Line's leadership development programme provides on- and offline support. However, initial take-up shows that HR Managers are hesitant when it comes to buying in training which goes beyond the training room.
Younger generations especially will like this approach that engages and empowers them to do things. However, it also requires an organisation's will to listen and change.
Conclusion
The new digital world of work is further fueling changes. Almost three-quarters of executives (74 percent) have identified digital HR – the complete redesign of HR tools and services around digital technology – as a top priority.
HR teams are learning to experiment with new ideas; they are making significant steps to upgrade skills, and a new generation of younger, more business-savvy and technology-empowered people are entering the profession. All of this will lead to stronger, more globally competitive organisations.
People analytics is gathering momentum to help improve the culture and engagement crisis. The percentage of executives who believe they are fully capable of developing predictive models doubled from 4 percent in 2015 to 8 percent in 2016, indicating a rapid growth in analytics as a core HR discipline.
The future of the workplace is one that is culture-driven and thrives on business transparency, collaborative working and employee happiness. It is a change for the better.
These represent big changes in the world of work, and the companies that understand, embrace this new mindset, and adapt accordingly – translating strategy into skills and adding culture fit to the hiring process – will be well positioned to not only attract, but also retain, the new workforce demographic.
Companies will benefit from ensuring their employees are dynamic and digitally fit. Aiming for digital HR leads to more anticipation, proactivity and modernity, and will help avoid missing the future.
HR leaders would be well advised to start using systemic tools like the 7S to help them understand how strategy impacts the different parts of their organisation, thus becoming more proactive and business-savvy. It is time for HR to step up its game and play a more proactive  role in what business is all about: us people.
By empowering teams, creating a new management model, and developing a younger and increasingly inclusive leadership structure, organisations are reinventing themselves to innovate, compete and thrive."
Josh Bersin, Deloitte Consulting
To see how we integrated the 7S into what clients call a "clever and game-changing approach" when assessing business units and teams, please try our Pathfinder Freemium version.
Additionally, watch this short clip to see how STYLE fits into the bigger picture. If you are interested in finding about more, please feel free to get in touch with me because I am genuinely interested in connecting with people who also want to explore what is coming our way and what do with it.