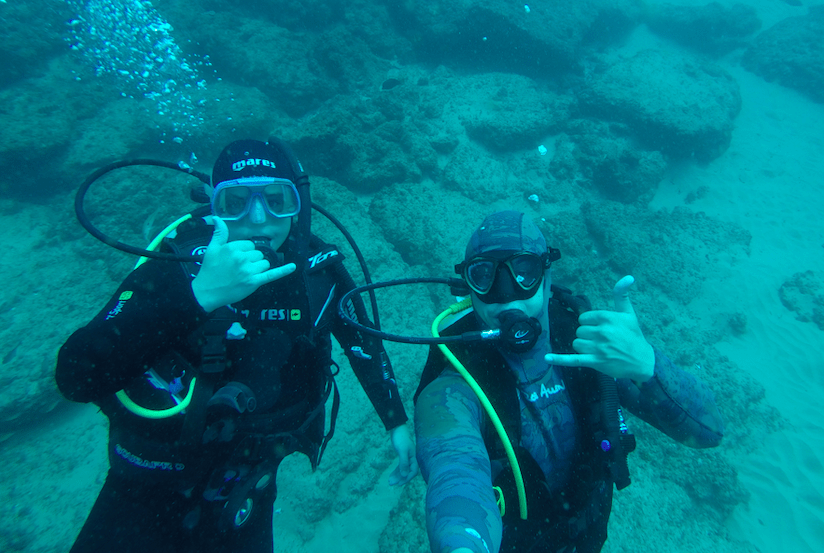 Piecing together a life against Single Use Plastics with the Brothers of iDiveblue
GPi is happy to support Bill and Nate Liebenberg, the Brothers of iDiveblue – along with their team of conservationists, diving instructors, and travel fanatics are a group of people looking to be part of the solution to our world's plastic addiction.
But what exactly is the problem?
Every year 13 million more tonnes of plastic are added to the ocean, and the worst part is none of us know the true impact this has on the world, the ocean and even us as a species. Two-thirds of earth is water and yet we continue burning through the likes of 500 billion plastic bottles a year. We need to change our mindset and our lifestyles because the problem will not be resolving itself.
Why can't it be resolved on its own? And why do you need to get involved?
It is estimated that ocean plastics can take over 1000 years to breakdown naturally. Even still, they break up into toxic elements. Plastics never truly "disappear" at least not single use plastics that is.  The plastic we dump into the ocean ultimately lands up being absorbed and consumed by marine flora and fauna. These organisms are in turn consumed by humans – so at the very least we are obligated to care, if not for the world and its animals, for our fellow humans who unwittingly are being poisoned by micro plastics and the like.
How can iDiveblue create a solution to this plastic pandemic?
The Brothers of iDiveblue want to create community. With the ability to aid people all over the world to connect and create a powerful, united collective – iDiveblue is equipping you with a way to be the voice the ocean needs.
From topics related to marine conservation, and ocean-related travel to watersports gear – iDiveblue makes concerted efforts to put out carefully crafted content in the hope that it will lead our oceans towards bluer days. By using their platform to educate yourself you could be part of the solution to one of the biggest ecological disasters of our age!
Who can help?
iDiveblue welcomes all ocean warriors and lovers to reach out to them. Whether you need help or can offer it, we are happy to help steer you in the right direction. Get in touch on any of the following platforms:  Facebook, Instagram, or on their content-rich website idiveblue.com.
About them:
The business was founded in 2018 and aims to serve a community of ocean-lovers. Considering the size of the entity, they have managed to make proportionally large contributions, here is some of the work they have done over the last two years:
Connected various volunteers (brave warriors of our oceans  as they call them) to the NGOs who help them make an even bigger impact.
Creating a widespread economy surrounding marine conservation. This provides work for conservationists and conservational writers alike.
All their educational, conservational, and travel content is in no way monetized. It serves only to inspire others to take care of our oceans and to serve as a resource for education, and intelligent conservation.
Direct donations – these are committed as a share of their profits. Their favorite cause to stand behind currently is Boyan Slat's enigmatic Ocean Cleanup.
Nate Liebenberg, their co-founder, gives regular talks across many to advocate against ocean plastics and the single-use lifestyle. Take a listen to Judith Dreyer's enlightening podcast, it is here Nate and herself into the nitty-gritty nurdles of ocean plastic.
And finally, the latest and most exciting project the team is in the process of setting up is a directory for ocean NGOs and educational resources. In their own experience, there is never a shortage of individuals wanting to help. However with a shortage of things to do – they need a platform to sail towards bluer pastures. Here is where they intend to provide these individuals with good science and interactive networks.
Please let us to more to safeguard these beautiful views and rich diversity for future generations to come.